Hi everybody! I know this is a bit of a long post but I just wanted to share my brothers inspiring story of determination and great weight loss. The all natural way! It will be worth your time especially if you struggle with weight yourself.
For as long as I can remember my younger brother David has been heavy and over weight. And I will admit I even remember picking on him and calling him names because of it. (Oh don't worry, he got in his fair share of picking on me too though! We are only 2 yrs apart.) As we grew up and became adults the picking on him turned into concern. I worried about his health because at his weight it was a health concern. I prayed that he would find a nice girl to marry. A girl that would see through the weight and see the Dave I know. I would pray that besides all of the extra weight God would keep him healthy.
Well, Dave did find a nice girl! Jen has been by his side through the hard work and determination and countless baked/grilled chicken dinners. And she is here to share his story. But first I want to say Dave I am so proud of you and I love you and I am so happy that you have lost so much weight and are now healthier because of it!
Now here is Jen and the rest of this post is in her words.
David has taken persistence and self-discipline to a whole new level. David decided in March 2008 to lose weight. He weighed in at around 420 lbs. He started w/ Weight Watchers and lost 60 lbs. in 6 mos. He met Trainer Tom in Sept. '08 and has transformed his body. In one year w/ Trainer Tom Strongin, David has lost a total of 150 lbs. He was 357 lbs. last Sept. 15th, and today, he weighs in at 207 lbs.
The following is a photo journey of Dave's transformation w/ his words of encouragement, emotions, and mindset to reach this goal!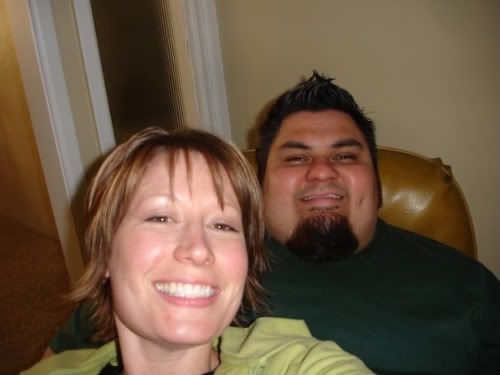 Dave, before making the decision to change his life and lose weight. Yet, we still were a happy couple! Dave thanks me for believing in him, but most of all, for not giving up in prayer. I prayed daily starting in April '06 when he began to pack on weight after our wedding. I did not believe it was God's will that my husband stay obese and die young from heart disease or diabetes. I prayed and prayed & knew God would do a work in Dave's heart for the sake of him and our family. The more Dave refused to go to the gym, the more I prayed. And then one day, Dave came home to tell me he would be starting personal training. Let's just say there were tears and a super grateful heart towards what God did in my husband's heart. "With God all things are possible"...Matthew 19:26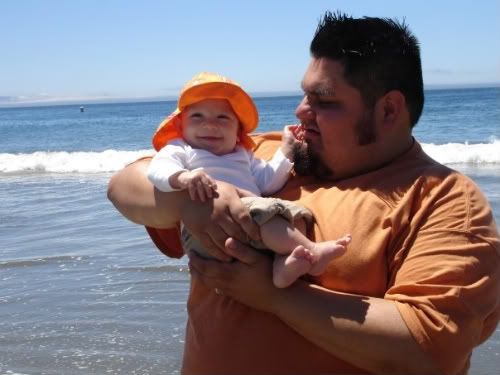 Dave w/ Daniel - July '07 - 420 lbs. Daniel 5 mos. old. Our first family vacation. (Just got to mention....our son is such a cutie!!!)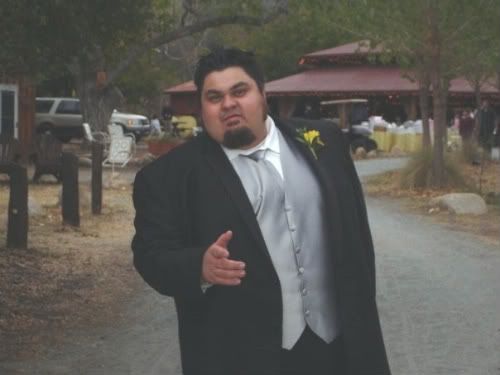 Dave - October 13, 2007 - 420ish lbs. Making the decision to lose the weight was the hardest thing he had ever done, but the pain had become greater than the pleasure! He had a disorder in his feet (plantar fasciitis) where it was just agonizing to stand/walk. He was always complaining of lower back pain, tired, and didn't get very good sleep. He made the decision to lose the weight before he was prescribed high blood pressure medicine, which he was on his way to.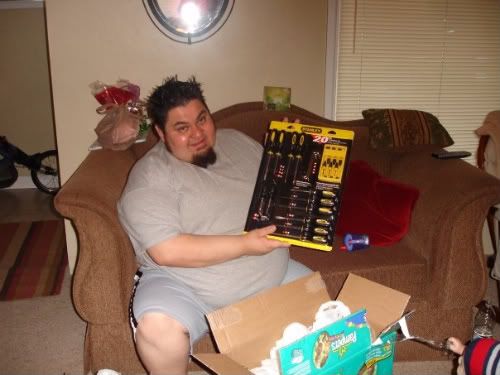 Here's Dave, Christmas morning 2007, still around 420 lbs. This was Daniel's first Christmas. His desire for his son to NEVER know him huge helped Dave decide to make the commitment!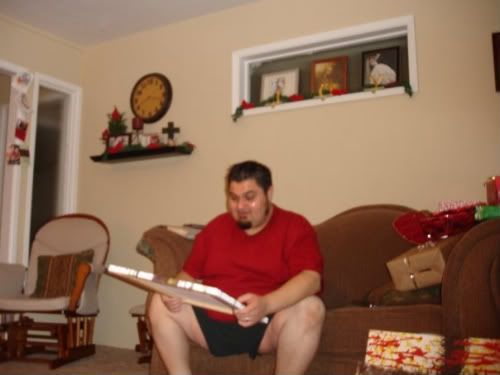 Dave - Christmas morning 2008 - 304 lbs. (Weight loss of 123 lbs. here.) At this point he had been working out with his trainer, Tom Strongin, for 3 mos. and had lost a total of 63 lbs. with Tom. (He lost 60 lbs. in 6 mos. on Weight Watchers, but what he did in 6 mos. on his own, he did in 1/2 the time w/ Tom.) Go Dave!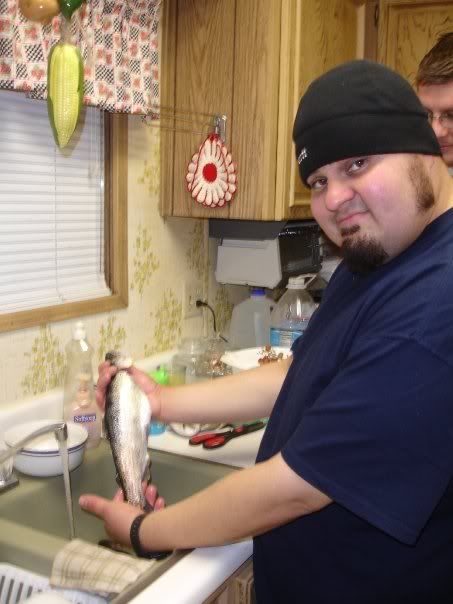 Dave - Jan. 3, 2009 - 297 lbs. Dave says that he has experienced the pain of being heavy & extremely obese in the physical, mental, and spiritual sense. This experience is so fresh to him and he wants people to know that they can overcome their battle w/ their weight! You can reach your goals! (If you never try, you'll never achieve it!)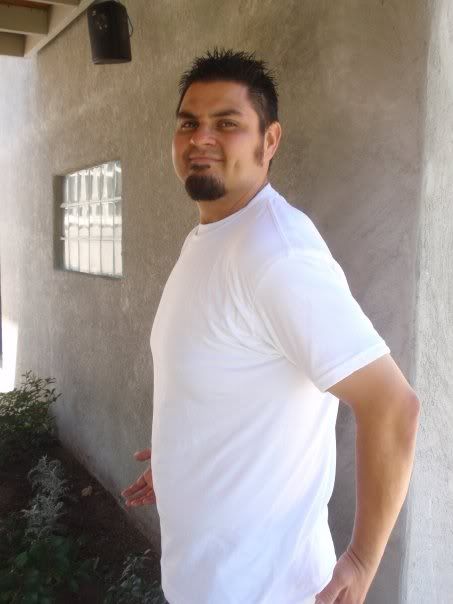 The NEW & IMPROVED DAVID!!!! Pic taken Wed. Aug. 26, 2009 - weighing in at 214 lbs. w/ a total of 206 lbs. lost in 1 year & 5 months. Beginning waist size: 48, waist size today: 34. He's shrunk from a 4X t-shirt (that was starting to get snug) to an XL. And some XL shirts are starting to get baggy on him! THANK YOU TOM STRONGIN FOR THE YEARS OF LIFE YOU ADDED TO DAVE'S LIFE!!
Here's Dave flexing his long lean muscles! Aug. 2009 - 214 lbs. Dave told me that his trainer Tom told him in the beginning (9/08), " I can see the skeletal structure under all that weight. If you could only see what I can see, you would see an athletic stud".....and that's just what Dave is becoming! (Thank you Tom for my super hot husband!!!)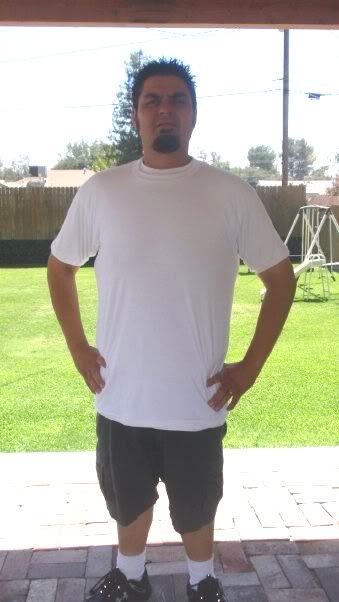 Dave - 214 lbs. No, he's not sucking it in. He's standing up straight. He works out 1 hr./day, Mon. - Fri. and does extra cardio most of the time. Wow Dave! Dave lost the 204 lbs. the "ALL NATURAL, NON-SURGICAL, LIFESTYLE CHANGED" way! (The Tom (Team) Strongin way.)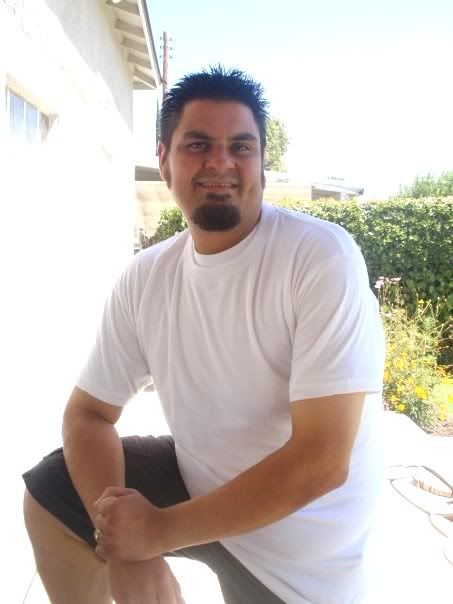 How much hotter can he get! That smile, those eyes, the dimple, the spiky hair, and the goatee. He still wants to lose about 15-25 lbs. And Tom Strongin plans to see him through to the end.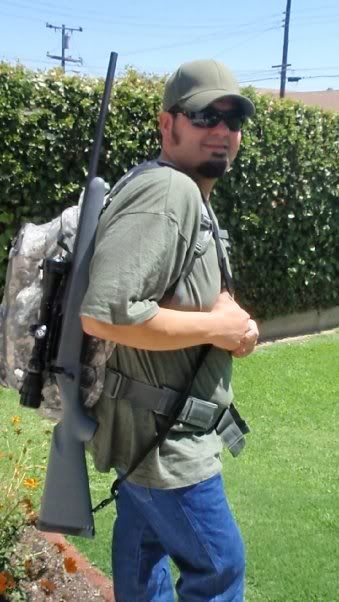 And here is the final pic of Dave I wanted to add. He's planning to go deer hunting in September and this will be his getup, he plans to hike around the mountains for 6-8+ hours. Lord knows he is in shape to do this hunting trip. I think this gun weighs 7 lbs. unloaded, or something. He's in such great shape!
Because of Team Strongin/Trainer Tom Strongin, David now understands the importance of nutrition and the power of personal training. David remembers thanking Tom for all that he has done for Dave, and Tom replied, "It's you that has done the work". In John Maxwell's words: TO BE MORE YOU HAVE TO BECOME MORE; IN THE MIRROR YOU'RE LOOKING AT THE PROBLEM & THE SOLUTION.
"Thank you Tom for believing in me and pushing me. And thank you God for the strength to conquer my old lifestyle of food addiction."
Dave trains at a local Body Xchange ph #: 661-477-5004 w/ Tom Strongin, Mon. - Fri., 5 a.m. to 6 a.m. and follows a strict diet plan w/ a food log. Dave is dedicated to expanding his lifespan and being strong and available to his family.
I am Dave's BIGGEST FAN! - Jen